Part-time courses for adults
Part-time courses in humanities, languages, business, computing, politics and law, science and environment, and social studies.
We are currently providing classroom-based and online courses. The delivery of each course will be specified in each course description. Please note we will continue to follow the Welsh Government guidance available at the time. This may mean that courses advertised as being based in the classroom will need to switch to being taught online.
Be inspired by our range of part-time courses at levels and times to suit you.
You can also study towards qualifications and we provide pathways to study an undergraduate degree with the University.
Study with us to enhance your career prospects or to increase your knowledge in a stimulating and challenging environment.
Latest news
A community project which has helped people connect with the rich history of their local area is celebrating the completion of a new £650,000 community and visitor attraction.
The Hidden Hillfort Community Heritage Centre is the culmination of a ten-year programme of community initiatives led by the Caerau and Ely Rediscovering (CAER) Heritage Project, a partnership between Cardiff University, Action in Caerau and Ely (ACE), local schools, residents and heritage partners.
Attended by First Minister Mark Drakeford in his capacity as the Member of Senedd for Cardiff West, the opening showcased the new state-of-the-art building and surrounding garden with volunteer-led tours running throughout the day and a VR experience and archaeological finds on display.
A new prehistoric-themed children's playground, funded by Wales and West Housing and Cardiff Council, is also now open to families.
Caerau hillfort is a heritage site of national significance with Neolithic, Iron Age, Roman and medieval origins yet it remains poorly appreciated and largely unknown.
Local involvement, co-creation and community participation
The centre, a redeveloped gospel hall on Church Road, will act as a gateway for visitors to discover the 6,000-year history of Caerau and Ely – two vibrant Cardiff communities which face some significant social and economic challenges.
Funded by the National Lottery Heritage Fund, it will be a place for volunteers, local residents, school pupils and visitors to explore and celebrate Caerau Hillfort alongside heritage professionals, artists, academics and university students.
Over the coming months, the project team will plan heritage trails, art installations, information and signage around the monument, heritage themed gardens, a community fridge and heritage food projects to address local challenges including food poverty.
This kind of local involvement, co-creation and community participation has always been at the heart of the CAER Heritage project and Co-director Dr Oliver Davis hopes the Centre will act as a catalyst to get more people involved.
Dr Davis, who is a Senior Lecturer at Cardiff University's School of History, Archaeology and Religion, said: "The visitor centre is the culmination of ten years of work by thousands of participants, many being school children, volunteers and residents from the local area.
"Over that time we've worked together to co-create geophysical surveys, museum exhibitions, adult learners' courses, art installations, creative writing, dance performances, banner processions, history projects, films and heritage trails.
"We want to involve those same people in our discussions about the centre too, so we can ensure that it best serves them and their communities going forward."
Dave Horton, Co-Director of Action in Caerau and Ely, added: "We're building on years of research that we've carried out with local people through the CAER Heritage project, based on this amazing historical site.
"And the idea of the Centre is for it to really put this place on the map and provide a gateway to the monument, so that first and foremost local people can access it, understand it and embrace it as an important part of their community and an important part of their story.
"But also we want it to run as a community centre as well. So we want it to be a space that local people can use for all kinds of activities and projects that help benefit their community and also a place where they can build on their skills, energy and enthusiasm so they can make changes they want to see in the local area."
Breaking down barriers to higher education
CAER Heritage opens up new educational opportunities for people of all ages including scholarships schemes and skills development at Cardiff University. The project team hopes that the new Centre will become a hub to further break down barriers to higher education for local volunteers like Doug, 60, who lives in Caerau and joined the project after a near-miss car crash.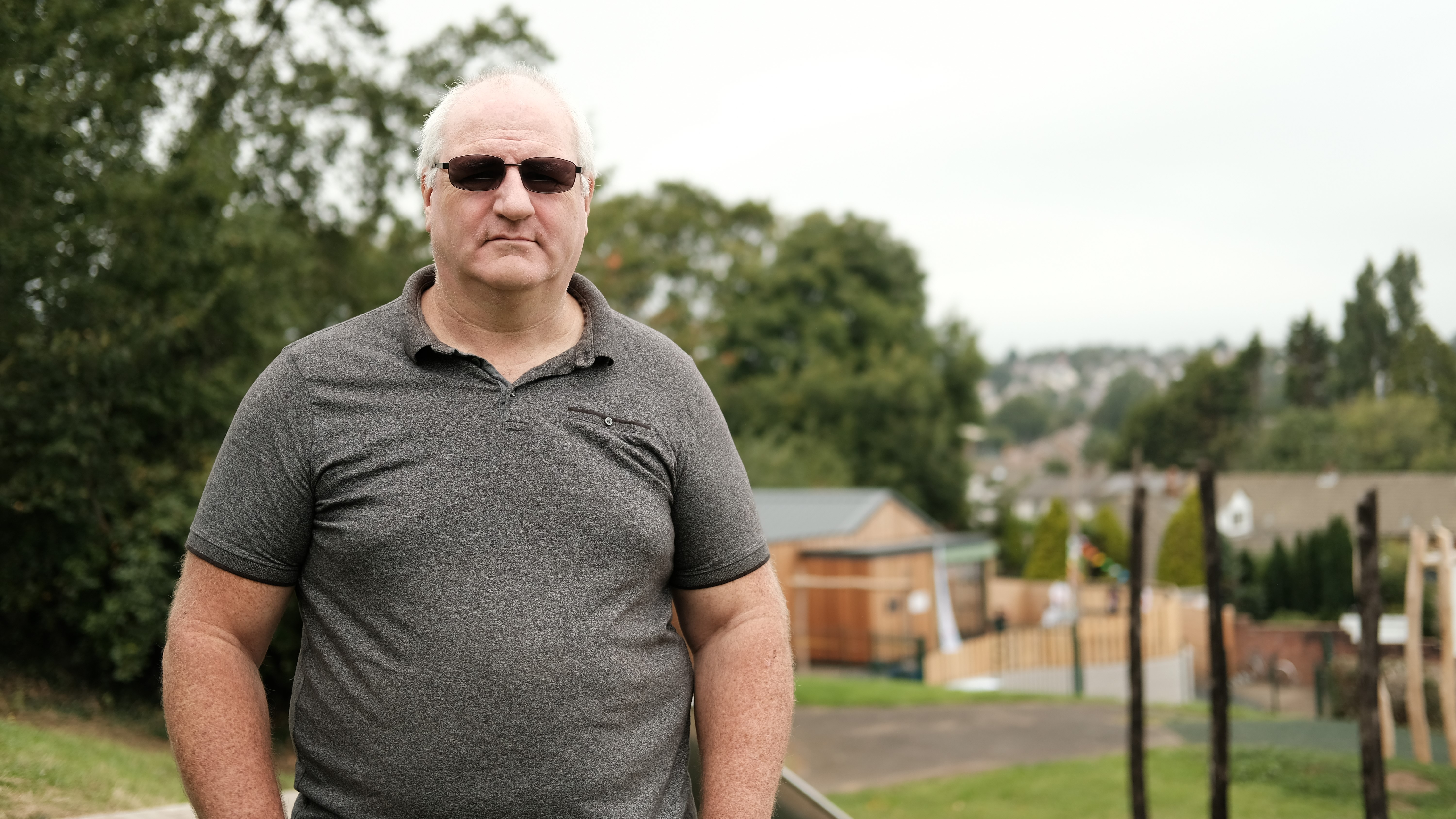 He said: "We'd been involved in an accident and I was having a lot of bad dreams and didn't want to go out. I kept having thoughts about what would've happened if it'd been a few inches closer. I still don't like driving past the spot where it happened."
A full-time carer for his wife, Doug found the project helped him get out of the house again and into the surrounding woodlands.
"Once this took off, I just had a bit more interest. It's a nice place to come and work and it keeps me fit too because I hike up here. I like to get out into the woods and help get them tidied up. To be part of this big project is fantastic. It's a good atmosphere and basically we're a community," he said.
Participating in the project also reignited Doug's love for history, which led him onto the Exploring the Past pathway programme at Cardiff University.
"I spent most of my time at school sat at the back messing about, so getting onto the pathway to a degree course has been the main change for me. I doubt that I would have got to this point on my own," he said.
With the opening of the visitor centre and heritage trails underway, Doug wants to see the woods developed next, to create jobs for the local community.
"I'd like to set up a wood yard as it would've been back in Roman times to make simple things like fences. You weave them out of branches, so basically it would be somewhere that would produce these and use them on the site. It would go with the theme and the general atmosphere of the place," Doug explained. Find out more about the CAER Heritage Project.
Cardiff University have included two new subject areas to their growing range of pathways.
From autumn 2021 students can enrol on the Pathway to Optometry which provides a route to an undergraduate degree in optometry with a preliminary year.
There is also the opportunity to study towards a Diploma in Dental Hygiene.
Our Pathways are coordinated by Continuing and Professional Education (CPE) and are designed to be flexible. They are part-time and learning takes place in the evening and at weekends to suit work and family commitments.
Students study in an encouraging environment, improve study skills and receive help with their university application. Funding advice is also available.
This exciting announcement comes on the 10th anniversary of the launch of our first Pathway, which was a route to a degree in history, archaeology and religion. Over the past decade we have added a further 11 subject areas which provide a route to degree studies for those who have been away from the classroom for a number of years.
Dr Sara Jones coordinates the pathways and commented: "We are thrilled to welcome The School of Optometry and The School of Dentistry as partners providing two new pathways to further study at Cardiff University.
Not everybody is ready to begin Higher Education at 18 but we ensure that students have a clear and accessible route when the time is right for them."
For more information visit our website or email pathways@cardiff.ac.uk
Naser Sakka (MSc 2019) is a resilient family man who arrived in the UK in 2015 as a refugee from war-torn Syria. He fell in love with Wales and, after completing a course created for refugees at Cardiff University, went on to gain his masters and started a social enterprise which has helped local businesses, particularly during the pandemic.
It wasn't Naser Sakka's choice to leave Syria. He had a nice life in his home country, but since the war began, his life as he knew it was destroyed. His family rebuilt their life in Wales and Naser says it was the help of the people around him that got them through.
"We were sent to different areas in the UK when we arrived as refugees, and it was my fate to end up in Wales. It turned out to be a lovely fate!"
Naser found himself in Cardiff, living with a Welsh family for six months and waiting for his wife and children to join him.
"I was sent to Cardiff and it was really beautiful. It's close to the sea and I loved exploring the castles and learning about the history. After a few weeks I met some people, talked to them, and discovered that this is a diverse city. People are kind and welcoming. I'm still in touch with the family I lived with when I arrived, and we visit each other when we can."
Naser felt the need to be proactive and get involved with the community as much as he could.
"I volunteered with two organisations, the Welsh Refugee Council and the Rotary Club. The Refugee Council have lots of courses, some of which are run in collaboration with Cardiff University. I've attended some of these and that's how I discovered the course at Cardiff University – Realising Your Business Potential."
Realising Your Business Potential was a course launched in 2016 in collaboration with the Welsh Refugee Council and Enactus students, taught by Professor Tim Edwards. It is taught at pre-university level and aims to create a space for refugees to integrate and provide them with opportunities. Participants are partnered up with Enactus students, teams of entrepreneurial students who create and contribute to community projects to empower those in need, and they work together on a business pitch.
Tim said: "It's a really nice environment to try and develop understanding. For the students, they begin to understand the experience of refugees, and the refugees work with the students in an energised environment. They figure out how to build a network."
"Naser has been incredibly entrepreneurial, he did really well on the module and was really engaged. Cardiff Business School's Professor Martin Kitchener (PhD 1996), saw this and decided to sponsor Naser for his master's," explains Tim.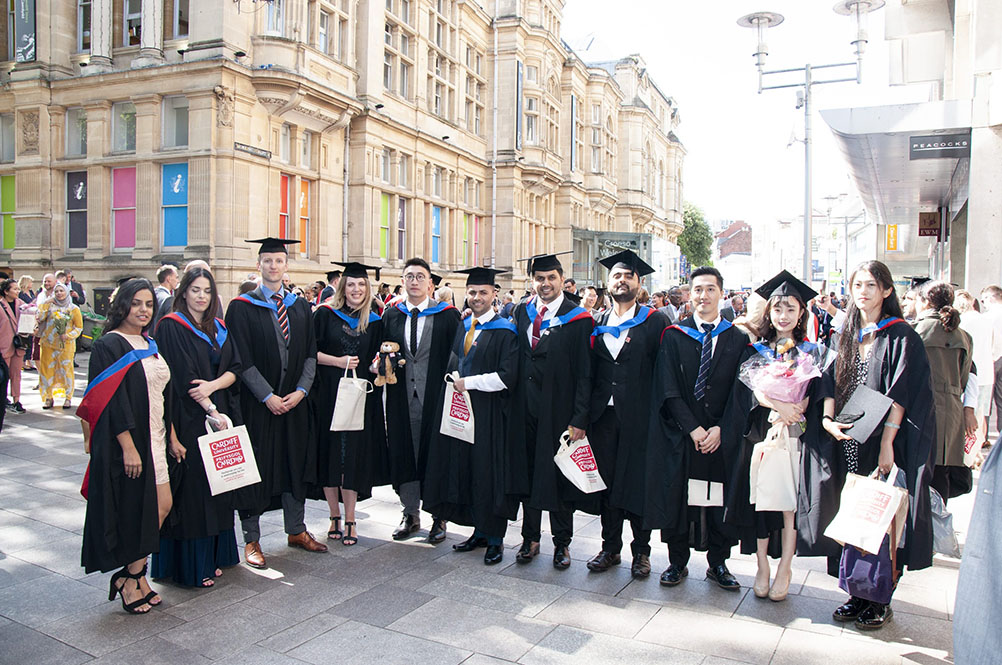 "I did the course at Cardiff University and I loved it," said Naser. "I met Enactus students and took part in some amazing projects with them. I felt so happy to work with them and I knew I would love to continue and do a business degree."
In order to gain his master's, Naser also completed a Pathway with Continuing and Professional Education which enabled him to apply for a postgraduate degree at Cardiff Business School.
"When you're a new arrival it's not easy. You don't have confidence because you don't know where you can do business or how to do certain things. These courses give you confidence to start a business, apply for jobs or further study."
It was while he was studying for his master's that Naser came up with a brilliant business idea, one that could help local businesses thrive.
"When I was doing my MA, we would do activities and brainstorming, and in the middle of the course I got this idea. I saw how people worked and met many people who didn't leverage technology in the best way. I thought it might be helpful for them to have something like Townmart."
"The idea behind Townmart is to give local businesses an opportunity to have an online presence, such as a website, online store, or booking system. We help set these things up. It's very affordable and the businesses don't pay to set up their account or their website, as we give them one year for free."
During the pandemic, Naser saw people struggle to keep their businesses because they didn't have an online presence, and started working with businesses in Penarth to help them set one up.
"I love to contribute to the community because I really appreciate the support I've received here, especially when we lost our lives in Syria. We had to rebuild, and without people's support I wouldn't be at this stage. Lots of the courses have been free and my MA was covered mostly by a grant. I used to volunteer full time as a way to give something back!"
Naser's vision for Townmart is to ultimately offer their services to every local business in the UK.
"I'm in contact with the Refugee Council and many other organisations to push this forward and there are lots of people who need this support, but they don't know about us yet!"
Naser has learned a lot from this experience and has kept in contact with Professor Tim Edwards and made other connections throughout.
"My advice to others arriving in the UK is to be proactive. Go to an organisation like the Refugee Council and take part in what's happening. There are many organisations that will help with study. Don't be shy, and don't wait. When people arrive, they feel a bit scared, and they worry the community won't accept them. My advice is to let the people know you. When they know you and you become a familiar face, they are really nice people. This is what I've done. I volunteered and did some amazing work with these organisations."
Naser's social enterprise, Townmart, is now up and running. Professor Tim Edwards is hoping to restart the course at Cardiff University, offering the opportunity not only to the refugee community but also the homeless community, when restrictions have eased.
We have developed a number of pathways to help you study for a degree at Cardiff University.
Find out why studying a short course with us is the right choice.
Schemes available and criteria required if you are looking for financial assistance.
Find out how to enrol on your course online.