Newyddiaduraeth, Cyfathrebu a Gwleidyddiaeth (BA)
UCAS code: J323
Next intake: September 2021
Duration: 3 years
Mode: Full time
Mae'r cynnwys hwn ar gael yn Saesneg yn unig.
Why study this course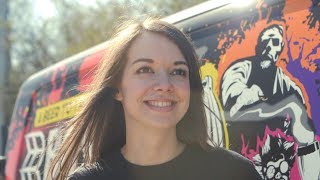 You will analyse and reflect upon changes to both politics and policy driven by the growth of social media, the communications industry and the 24/7 news cycle. In recent years, institutional politics have become more mediatised, and political leaders are now media-driven and speak in soundbites.
Political campaigning is no longer limited to pre-electoral periods and public relations strategists and political consultants have become more and more central to politics. These links are affecting policy too, both at the national and the international levels.
The spread of the internet and the development of social media has also brought changes to the relations between citizens and their political representatives, and constitute a new platform for citizens' political deliberation, and for the organisation of activists, protesters, and new social movements (often at a transnational level). This new course aims to critically examine these and many other issues.
While this course is both challenging and academic in nature, it does NOT provide vocational journalism training.
Distinctive features
Cardiff is home to a lively media industry and to the Welsh Government and the National Assembly for Wales, providing excellent opportunities for work experience.
You will also study Journalism and Communications in a new purpose-built School in the centre of Cardiff's all-new Central Square development. The School is located next to national media organisations such as Media Wales and BBC Cymru/Wales.
Rhodfa'r Amgueddfa, Caerdydd, CF10 3AX
Coronavirus (COVID-19)
The changing nature of the pandemic means it can be hard to predict future plans with certainty. Whatever the situation, we're making every effort to keep our students safe and give them the best possible teaching and learning experience.
Entry requirements
Please see our admissions policies for more information about the application process.
Tuition fees
Students from the UK
| Year | Tuition fee | Deposit |
| --- | --- | --- |
| Year one | £9,000 | None |
| Year two | £9,000 | None |
| Year three | £9,000 | None |
Students from the EU, EEA and Switzerland
If you are an EU/EEA/Swiss national, unless you qualify for UK fee status, tuition fees for 2021/22 will be in line with the fees charged for international students. UKCISA have provided information about Brexit and tuition fees.
Students from the rest of the world (international)
| Year | Tuition fee | Deposit |
| --- | --- | --- |
| Year one | £17,450 | None |
| Year two | £17,450 | None |
| Year three | £17,450 | None |
Financial support
Financial support may be available to individuals who meet certain criteria. For more information visit our funding section. Please note that these sources of financial support are limited and therefore not everyone who meets the criteria are guaranteed to receive the support.
Additional costs
Course specific equipment
You will not need any specific equipment.
Accommodation
We have a range of residences to suit your needs and budget. Find out more on our accommodation pages.
Living costs
We're based in one of the UK's most affordable cities. Find out more about living costs in Cardiff.
Course structure
The BA in Journalism, Communications and Politics is a three-year, full time, modular course. You will take 120 credits per year split equally between your subjects.
The modules shown are an example of the typical curriculum and will be reviewed prior to the 2021/22 academic year. The final modules will be published by September 2021.
Year one
You will study 60 credits in each school.
You will be introduced to ideas and approaches in lectures and carry out more applied and team-based work in seminars.
Year two
All modules in year two are optional modules. You will be expected to develop research protocols, on your own and in groups, and will begin to experiment with methods of information gathering and analysis.
By the end of year two, you will be equipped to conceive, design, research and write up your dissertation in year three.
Year three
In year three you will choose at least two modules from each School and may opt to write a dissertation in your particular area of interest.
The range of teaching methods becomes more diverse and involves more complex and challenging assignments. You will carry out independent research and apply theoretical ideas and approaches to practical or analytical work.
| Module title | Module code | Credits |
| --- | --- | --- |
| Dissertation | MC3103 | 40 credits |
| Media Law | MC3213 | 20 credits |
| Mediating Childhood | MC3585 | 20 credits |
| The Making and Shaping of News | MC3589 | 20 credits |
| Media, Racism, Conflict | MC3593 | 20 credits |
| Spin Unspun: Public Relations and The News Media | MC3596 | 20 credits |
| The Creative and Cultural Industries | MC3608 | 20 credits |
| Sport and the Media | MC3612 | 20 credits |
| Communicating Causes | MC3616 | 20 credits |
| Understanding Media Business | MC3619 | 20 credits |
| Reporting Conflict and the Civil Sphere | MC3624 | 20 credits |
| Palu am y Gwir | MC3625 | 20 credits |
| Stori Pwy? Cyfathrebu Cymru | MC3626 | 20 credits |
| Reporting the World | MC3628 | 20 credits |
| Media, Money and Markets | MC3630 | 20 credits |
| The Cultural Politics of Contemporary Hollywood | MC3632 | 20 credits |
| Popular Music, Media, & Culture | MC3633 | 20 credits |
| Understanding Digital Society through Black Mirror | MC3634 | 20 credits |
| A Century of War Photojournalism | MC3635 | 20 credits |
| Immersive Media | MC3636 | 20 credits |
| Marketing, Branding and Promotional Cultures in Television | MC3637 | 20 credits |
| (Me) me, Myself and I:The Power and Politics of Digital Remix Culture and Online Inequalities | MC3642 | 20 credits |
| International Politics in the Nuclear Age | PL9320 | 20 credits |
| Africa in International Thought and Practice: Colonialism, Anticolonialism, Postcolonialism | PL9321 | 20 credits |
| Global Environmental Politics | PL9322 | 20 credits |
| Bombs, Bullets and Ballot-boxes: the Northern Ireland Conflict, 1969 to 1998 | PL9324 | 20 credits |
| Political Economy: Rationality in an Irrational World? | PL9325 | 20 credits |
| Popular Culture and World Politics | PL9328 | 20 credits |
| China in the World | PL9330 | 20 credits |
| War and Society | PL9331 | 20 credits |
| Cybersecurity: Diplomacy and Digital Rights in Global Politics | PL9332 | 20 credits |
| A History of British Intelligence | PL9333 | 20 credits |
| The Politics of Violence and Killing | PL9335 | 20 credits |
| Justice, Legitimacy and International Law | PL9336 | 20 credits |
| Latin American Politics | PL9337 | 20 credits |
| Sex, Drugs and Public Policy | PL9338 | 20 credits |
| Visual Global Politics | PL9339 | 20 credits |
| Politics in Practice: Work Placement Module | PL9340 | 20 credits |
| The Soul and the City: Plato's Political Philosophy | PL9341 | 20 credits |
| Crisis and Commitment in 20th Century Political Thought | PL9343 | 20 credits |
| The Many Faces of Thomas Hobbes | PL9345 | 20 credits |
| Be the Change: Governing without the State | PL9346 | 20 credits |
| The Politics and Governance of Brexit | PL9347 | 20 credits |
| Representing Development | PL9348 | 20 credits |
| Truth and Power: Epistemology, Science, Politics | PL9349 | 20 credits |
| The Politics of Populism in Europe | PL9350 | 20 credits |
| US Government and Politics | PL9374 | 20 credits |
| Cyfiawnder Byd-eang | PL9377 | 20 credits |
| Cenedlaetholdeb, Crefydd a Chyfiawnder: Hanes Athroniaeth yr 20fed Ganrif yng Nghymru | PL9378 | 20 credits |
| Parliamentary Studies Module | PL9380 | 20 credits |
| International Relations Dissertation | PL9385 | 20 credits |
| Politics Dissertation | PL9386 | 20 credits |
| Elections in the UK | PL9387 | 20 credits |
| Global International Organisation in World Politics | PL9391 | 20 credits |
| Personality and Power | PL9392 | 20 credits |
The University is committed to providing a wide range of module options where possible, but please be aware that whilst every effort is made to offer choice this may be limited in certain circumstances. This is due to the fact that some modules have limited numbers of places available, which are allocated on a first-come, first-served basis, while others have minimum student numbers required before they will run, to ensure that an appropriate quality of education can be delivered; some modules require students to have already taken particular subjects, and others are core or required on the programme you are taking. Modules may also be limited due to timetable clashes, and although the University works to minimise disruption to choice, we advise you to seek advice from the relevant School on the module choices available.
Learning and assessment
You will benefit from teaching led by experts in the fields of journalism and media studies on the one hand and political science and Government on the other. You will be taught by staff who are researchers or practitioners in the areas of journalism and communications or politics and international relations.
We offer a supportive learning environment, where you are enabled to acquire a range of skills and a wealth of specialist knowledge. Our courses foster intellectual skills, such as critical thinking, close analysis, evaluating evidence, constructing arguments, using theory and the effective deployment of language in writing and in debate. We also help you gain experience in team working, independent research and time management.
You will be taught both by lecture and seminar. Lectures provide an overview of the key concepts and frameworks for a topic, equipping you to carry out independent research for the seminars and to develop your own ideas. Seminars provide an opportunity for you to explore the ideas outlined in the lectures.
Seminars usually consist of about 15 students and the seminar leader (a member of the teaching team). Seminars may take various formats, including plenary group discussion, small-group work and student-led presentations.
How will I be supported?
As well as having regular feedback from your personal tutor in each course, you will have a reading week each semester for guided study and a chance to catch up on assessed work, reading and revision.
You will have access through the Learning Central website to relevant multimedia material, presentations, lecture handouts, bibliographies, further links, electronic exercises and discussion circles.
The University offers a range of services including the Careers Service, the Counselling Service, the Disability and Dyslexia Service, the Student Support Service, and excellent libraries and resource centres.
What skills will I practise and develop?
You will acquire and develop a range of valuable skills, both discipline specific and more generic 'employability skills', which will allow you to:
read, analyse and synthesise complex academic texts
analyse different media texts, including word, image and sound
communicate clearly, concisely and persuasively in writing and speech
learn from constructive criticism and incorporate its insights
work both independently and as part of a team, developing a collaborative approach to problem-solving
carry out various forms of independent research for essays, projects, creative productions or dissertations
work to deadlines and priorities, managing a range of tasks at the same time
use IT programmes and digital media, where appropriate
take responsibility for your own learning programme and professional development.
Careers
Career prospects
School of Journalism, Media and Culture
In 2016/17, 96% of the School's graduates who were available for work reported they were in employment and/or further study within six months of graduating.
Our graduates find their skills to be helpful in a range of communications and public relations roles. Our alumni benefit from their ability to write copy quickly, effectively and for a specific audience. Our graduates often succeed in business due to their ability to structure a coherent written and verbal argument when pitching their business ideas.
Some of our graduates utilise their newfound knowledge of current affairs and world politics to pursue a career in journalism.
Because our undergraduate degrees do not provide journalism training or a journalistic accreditation, many chose to progress on to our Masters courses, such as broadcast, magazine, news or computational journalism, to gain their practical training.
School of Law and Politics

In 2016/17, 95% of the School's graduates who were available for work reported they were in employment and/or further study within six months of graduating.
Politics at Cardiff is a respected recruitment pool for a variety of employers within this sector with the Public Service Ombudsman for Wales, the Department for Education, the UK Border Agency and a range of political parties all recruiting from the last graduating year.
Outside of the political sector, the degree is of interest to employers in both the public and private sectors, with graduates taking up management training opportunities within EY, Enterprise Rent A Car, Zurich Insurance and King Worldwide.
---
HESA data: Copyright Higher Education Statistics Agency Limited 2020. The Higher Education Statistics Agency Limited cannot accept responsibility for any inferences or conclusions derived by third parties from its data. Data is from the latest Graduate Outcomes Survey 2017/18, published by HESA in June 2020.