Radiograffeg (MSc)
Hyd: Pedair blynedd
Dull astudio: Rhan amser
---
Pam astudio'r cwrs hwn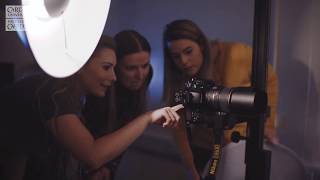 Nod y cwrs hwn yw cynyddu eich gwybodaeth ymarferol a damcaniaethol o radiograffeg, fel y gallwch ddefnyddio'r sgiliau hyn i fynd ymhellach yn eich proffesiwn. Yn ogystal, gellir astudio ein tri modiwl mamograffeg (HCT053, HCT119 a HCT254) ar sail annibynnol i ddarparu arbenigedd angenrheidiol i radiograffwyr ddod yn ymarferwyr mamograffeg effeithiol, cymwys ac annibynnol.
Join our MSc Radiography programme that is accredited by the Society and College of Radiographers and designed to help you expand your knowledge and enhance your clinical skills in this fast-developing sector. The skills you can obtain are transferable to all healthcare organisations and are recognised overseas.
Our programme is aimed at those with a current qualification and registration as a diagnostic radiographer, therapeutic radiographer, or other health care professionals with the Health and Care Professions Council (HCPC) registration or equivalent.
This part-time course aims to develop your skills in areas such as image appreciation, radiographic reporting and mammography and many other core practices associated with radiography. Due to our optional approach to learning you will get to choose modules that best suit your needs so that your learning is relevant for you.
In order to take your understanding of radiography further, you have a choice of dissertations, systematic review, empirical research or work-based project, which will increase your ability to influence change in the field of radiography and take the next step in your career.
You will also have the opportunity to work in our dedicated general X-Ray room with PACS system for both image viewing experience and for experimental purposes. As well as a dedicated X-ray space we also have dosimetry equipment, a radiography training room using 3D interactive simulation to include Shaderware Computers and dedicated ultrasound equipment available for research opportunities and to enhance your learning.
Your learning will be supported and delivered by experienced researchers and academics alongside clinical experts. Radiologists and clinical radiographers support each of the clinical modules ensuring a high degree of current and relevant clinical knowledge is applied alongside the requirement for questioning practice. You will also be assigned a designated personal tutor who will support you throughout your studies.
You will also be part of a group of students who come from a variety of clinical backgrounds which also enhances your learning experience and you will be encouraged to share ideas and experiences.
Undertaking our programme will support your personal and professional development as well as influencing and informing healthcare across Wales and beyond.
Be part of something life-changing and take on a new challenge today.
Nodweddion unigryw
Here are some of the key features of why we think our programme is the right choice for you:
Our course is accredited by the Society and College of Radiographers and you will have opportunity to learn in a School which is an accredited Joanna Briggs Centre.
You will be designated a personal tutor who will support you throughout your studies. Personal tutors will be allocated (where possible) to match your specific area of experience.
Certain teaching on the programme is given through the interpretation of medical test results.
You will benefit from a large range of equipment specially designed to enhance your learning including; a X-ray room and PACS system.
The programme has a variety of assessment methods including; presentations, practical, written assessments, coursework, reports, exams and reflective assignments.
You will learn the most relevant and up-to-date skills owing to the involvement of research-active and clinical staff in course design and delivery.
You can choose two optional modules that best suit your learning needs from a select list for this programme,.
The opportunity to become a student representative and shape future educational provision will be open to you.
You will benefit from learning alongside a diverse group who are studying at various points in their career.
All University teaching sessions are captured on video and where appropriate, are made available online for you to review and revisit your learning.
If your first language is not English, there are open access English Language courses available to you.
Achrediadau
Society and College of Radiographers
Ble byddwch yn astudio
Dyluniwyd ein cyrsiau er mwyn eich darparu gyda'r wybodaeth a'r profiad y bydd angen arnoch er mwyn dechrau dilyn gyrfa goal iechyd proffesiynol.
Ysbyty Athrofaol Cymru, Parc y Mynydd Bychan, Caerdydd, CF14 4XN
Meini prawf derbyn
Only qualified radiographers, who are in possession of a Degree/Diploma in Radiography or an equivalent programme, are eligible to apply.
Two years clinical experience is a requirement for entry to the programme.
You must be working in a radiology/mammography department in the UK and have the support of a radiological mentor if completing modules. You must identify a mentor before the start of the programme who must be verified by the module team.
Applications are reviewed and accepted on a 'personal statement' where a judgement is made on your suitability for the programme.
You must address the following key points in your personal statement:
Why have you selected this programme?
What interests you about this programme?
An understanding of the modules being offered at Cardiff University.
Any relevant experience related to the programme or module content.
How you plan to use the qualification in your career and the potential professional benefit from your studies.
Why you feel you should be given a place on the programme.
Application deadline
The deadline for applications is the end of July of each academic year. Your application may be considered after this date, but it may be for a later intake.
Students whose first language is not English
All students whose first language is not English will be required to pass an IELTS test (or recognised equivalent).
The requirement is an IELTS overall score of 6.5 and no less than 5.5 in any subsection. Please see our English Language Requirements guidance for more details.
Please note that applicants with an IELTS score of overall 6 may be eligible for an offer based upon attendance on pre-sessional English language course. Please be advised that places on these courses are limited and it is recommended that you apply early. Application for these courses can be made here.
Rhagor o wybodaeth am ofynion Iaith Saesneg.
Mae'n rhaid i ymgeiswyr sydd angen Fisa myfyriwr i astudio yn y DU gyflwyno cymhwyster iaith Saesneg derbyniol er mwyn bodloni gofynion UKVI (Fisâu a Mewnfudo y DU).
Euogfarnau troseddol
You are not required to complete a DBS (Disclosure Barring Service) check or provide a Certificate of Good Conduct to study this course.
If you are currently subject to any licence condition or monitoring restriction that could affect your ability to successfully complete your studies, you will be required to disclose your criminal record. Conditions include, but are not limited to:
access to computers or devices that can store images
use of internet and communication tools/devices
curfews
freedom of movement
contact with people related to Cardiff University.
Strwythur y cwrs
The MSc Radiography programme is modular and students must complete 120 credits in the taught component of the programme and a further 60 credits in the dissertation component. 60 credits are 'core modules' and must be undertaken, and 60 credits are optional.
Taught modules are arranged in block format of 2-3 days and run throughout the semesters identified.
Mae'r modiwlau a ddangosir yn esiampl o'r cwricwlwm arferol. Byddant yn cael eu hadolygu cyn blwyddyn academaidd 2022/23. Bydd y modiwlau terfynol yn cael eu cyhoeddi erbyn mis Medi 2022.
Blwyddyn un
Year 1 Semester 1 you will have one 30 credit Core Module.
Year 1 Semester 2 you will have one 30 credit Core Module.
Blwyddyn dau
You can choose 2 modules from the Optional collection.
NB
Modules commence in Semester 1 and complete in Semester 2
Students cannot complete certain modules as they are taught together but assessed differently.
Blwyddyn tri
Choice of 1 Dissertation module (60 credits)
Mae'r Brifysgol wedi ymrwymo i ddarparu amrywiaeth eang o opsiynau modiwl lle'n bosibl. Ond byddwch yn ymwybodol er y byddwn yn gwneud pob ymdrech i gynnig dewis, gall hyn gael ei gyfyngu mewn rhai amgylchiadau. Y rheswm am hyn yw'r ffaith mai dim ond nifer cyfyngedig o leoedd sydd ar gael ar rai modiwlau, a gaiff eu dyrannu ar sail y cyntaf i'r felin. Mae'n ofynnol i fodiwlau eraill sicrhau isafswm nifer o fyfyrwyr cyn gallu eu cynnal, er mwyn gwneud yn siŵr y gellir cyflwyno addysg o ansawdd priodol. Gall modiwlau gael eu cyfyngu oherwydd gwrthdaro yn yr amserlen hefyd, ac er bod y Brifysgol yn ymdrechu i amharu cyn lleied â phosibl ar eich dewis, byddai'n syniad da i chi ofyn am gyngor gan yr Ysgol berthnasol am y dewisiadau modiwl sydd ar gael.
Dysgu ac asesu
Sut y caf fy addysgu?
Teaching is conducted mainly through workshops, tutorials and seminars. There are also lectures which are followed up by opportunities to discuss and evaluate ideas presented. Course content is supported by online resources.
Self-directed study forms an important part of the course and you will be guided in the areas for study and study skills.
Sut y caf fy asesu?
You will be assessed through a variety of assessment procedures, such as written assignments, oral presentations, portfolio and work-based projects. There are also clinical examinations in the Image Appreciation and reporting modules. This enables you to demonstrate your ability at analysing and evaluating a situation but also to use a variety of ways to present your ideas and abilities. The dissertation is a culmination of the development of all these skills.
Sut y caf fy nghefnogi?
This programme gives you the opportunity to share ideas with a variety of health professionals. As well as developing your own intellectual abilities, this sharing of ideas enables you to learn and benefit from the experiences of others. Opportunity is given for this sort of discussion and exchange of ideas through seminars and tutorials.
You are given a named personal tutor following registration onto the programme, who is able to assist you with any pastoral care as well as advice on writing style, grammar and academic mentoring.
All modules within the programme make extensive use of Cardiff University's Virtual Learning Environment (VLE) Learning Central, on which you will find course materials, links to related materials and assessment exemplars. All lectures are recorded via Panopto and are available to you throughout your programme.
The University offers a wide range of services and activities designed to support you. These include a student counselling service, a student advisory service, day care facilities, sport and exercise facilities, as well as campus information, library and IT services.
Our student app allows you to access Cardiff University services and personalised information in one place in a simple and convenient way from a smartphone via the app store.
Features on the app include:
Campus maps
Student library renewals, payments and available items
Student timetable
Find an available PC
Access to help and student support
Student news
Receive important notifications
Links to launch other University apps such as Outlook (for email) and Blackboard (for Learning Central).
Links to recommended apps such as nextbike to help make the most of your student experience.
Pa sgiliau y byddaf yn eu hymarfer a'u datblygu?
Knowledge & Understanding:
Demonstrate enhanced clinical knowledge and skills and apply these critically to your radiography practice, to develop a complete understanding of radiology modalities and apply the knowledge to improve both service user outcomes and colleague insights.
Develop a practical understanding through evaluation of established techniques of research and enquiry to interpret knowledge to support implementation of research findings into radiography practice.
Examine and evaluate the position of radiography in healthcare practice and critically appraise advances or changes in professional practice.
Initiate change and lead in the management of change and the advancement of the radiography profession.
Intellectual Skills:
Critical analysis of research.
Reflection and critical analysis of the radiography profession and of your own practice.
Professional Practical Skills:
Practical skills in areas of advanced practice
Transferable skills
Confident communication skills.
Critical academic writing and study skills.
Time management and self-organisation skills.
Develop practical research skills and apply them to practice.
Ffioedd dysgu ar gyfer dechrau astudio yn 2022
Gan fod y rhaglen hon yn dair blynedd neu'n hŷn ac mae ganddi gymhwyster cyfwerth ag amser llawn blwyddyn, ni fyddwch yn gymwys i gael benthyciad ôl-raddedig. Mae gan Lywodraeth y DU fwy o wybodaeth am gymhwysedd ar gyfer benthyciadau ôl-raddedig.
Bydd eich ffioedd dysgu a sut y byddwch yn eu talu yn dibynnu ar eich statws ffioedd. Gallai eich statws ffioedd fod yn statws cartref, ynysoedd neu tramor.
Dysgwch sut rydym yn pederfynu eich statws ffioedd
Ffioedd am statws cartref
Caiff ffioedd eu hanfonebu fesul modiwl. Fel arfer, caiff anfonebau eu rhyddhau yn fuan ar ôl cofrestru ar gyfer yr holl fodiwlau y byddwch yn eu hastudio. I gael rhagor o wybodaeth, ewch i'n tudalennau ffioedd dysgu.
Myfyrwyr o'r UE, AEE a'r Swistir
Os ydych chi'n wladolyn o'r UE/AEE neu'r Swistir, bydd eich ffioedd dysgu ar gyfer 2022/23 yn unol â'r ffioedd tramor a godir ar fyfyrwyr rhyngwladol, oni bai eich bod yn gymwys i gael statws ffioedd y DU. Mae UKCISA wedi darparu gwybodaeth am Brexit a ffioedd dysgu.
Ffioedd am statws ynys
Dysgwch ragor am ffioedd ol-raddedig i fyfyrwyr o Ynysoedd y Sianel ac Ynys Manaw.
Ffioedd am statws tramor
Caiff ffioedd eu hanfonebu fesul modiwl. Fel arfer, caiff anfonebau eu rhyddhau yn fuan ar ôl cofrestru ar gyfer pob modiwl unigol. I gael rhagor o wybodaeth ewch i'n tudalennau ffioedd dysgu.
Costau ychwanegol
Costau byw
Rydym wedi ein lleoli yn un o ddinasoedd mwyaf fforddiadwy y DU. Rhagor o wybodaeth am gostau byw yng Nghaerdydd.
Gyrfaoedd a lleoliadau gwaith
Mae'r cynnydd yn y galw am wasanaethau delweddu yn golygu na fu erioed amser gwell i radiograffwyr archwilio cyfleoedd i ymestyn i mewn i ymarfer uwch gyda chymhwyster a gydnabyddir yn rhyngwladol.
Mae gwasanaethau delweddu yn ymchwiliad llinell gyntaf fwyfwy wrth drin a rheoli cyflyrau cleifion. Mae hyn yn gofyn am radiograffwyr sy'n gallu arwain y gwasanaeth, ac mae'r MSc Radiograffeg wedi'i gynllunio i wella sgiliau clinigol a gwybodaeth ddamcaniaethol radiograffwyr diagnostig/therapiwtig cymwys er budd cleifion a thimau rhyng-broffesiynol ehangach.
Lleoliadau
The clinical modules all require a clinical placement and radiological support. Students must be working in a clinical environment to practice these skills. Cardiff University does not organise the clinical placements. The radiological mentor must be indicated, and a mentor form completed before the start of the programme.
---
Data HESA: Hawlfraint yr Asiantaeth Ystadegau Addysg Uwch Cyfyngedig 2021. Ni all yr Asiantaeth Ystadegau Addysg Uwch Cyfyngedig dderbyn cyfrifoldeb am unrhyw gasgliadau neu benderfyniadau sy'n deillio o drydydd partïon o'i data. Daw'r data o Arolwg Hynt Graddedigion Diweddaraf 2018/19 a gyhoeddwyd gan HESA ym mis Mehefin 2021.