Technoleg Cyfathrebu ac Entrepreneuriaeth (MSc)
Hyd: 1 flwyddyn
Dull astudio: Amser llawn
Mae'r cynnwys hwn ar gael yn Saesneg yn unig.
---
Pam astudio'r cwrs hwn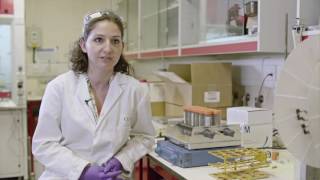 Nod y cwrs yw darparu, ar lefel uwch, gwybodaeth a sgiliau mewn peirianneg gyfathrebu ddi-wifr a microdon yn ogystal â sgiliau arbenigol mewn busnes ac entrepreneuriaeth.
This course aims to provide you with key, advanced level knowledge and skills that will allow you to succeed in the rapidly growing wireless and microwave communication industry. You will also develop research skills and other related abilities, enhancing your general engineering competency, employability, and providing you with an excellent platform for career development, whether that be within industry or academic research.
In addition, modules delivered by Cardiff University's internationally recognised Business School will allow you the opportunity to gain valuable skills in entrepreneurship and an insight into what's involved in starting your own business.
More specifically, the programme aims to equip you with:
Expertise in new and evolving areas, such as advanced microwave computer aided design and communication systems engineering.
Laboratory time and advanced engineering management alongside modules in radio frequency engineering, advanced industry standard microwave computer aided design (CAD) tools, fabrication and testing, advanced communication systems, advanced communication networks and non-linear RF designs and concepts.
Skills in entrepreneurship across a variety of business and technology disciplines complemented by the specialist modules taught by Cardiff Business School.
Real world technology product development experience, learn best practices and build an exceptional network from seasoned and successful entrepreneurs.
If you have software skills, you will have the opportunity to apply to the Alacrity Foundation to take part in their "boot camp". This 12 month programme provides graduates with practical business training, software skills & mentorship so they can develop as entrepreneurs and launch their own UK based technology companies.
Nodweddion unigryw
The distinctive features of this course include:
The opportunity to learn in a research-led teaching institution taught by staff in one of the highest ranked university units in the 2014 Research Excellence Framework (REF 2014).
MSc teaching complemented by guest lectures given by industrial professionals.
A unique opportunity to participate in the Alacrity Foundation Programme.
A programme partially based on a successful and well-established course - Wireless and Microwave Communication Engineering (MSc).
Specialist modules taught by the Cardiff Business School.
Ble byddwch yn astudio
Dewch i astudio yn un o'r ysgolion peirianneg fwyaf blaenllaw yn y DU o ran ansawdd ymchwil ac addysgu.
5 The Parade, Heol Casnewydd, Caerdydd, CF24 3AA
Meini prawf derbyn
A lower second class honours degree in Electrical or Electronic Engineering, Communication Engineering, Communicaton Technology, Wireless Engineering or a similar field from a good UK university or an equivalent international degree qualification.
Entry to courses in Engineering will be subject to the University requirements for English language.
Rhagor o wybodaeth am ofynion Iaith Saesneg.
Mae'n rhaid i ymgeiswyr sydd angen Fisa myfyriwr i astudio yn y DU gyflwyno cymhwyster iaith Saesneg derbyniol er mwyn bodloni gofynion UKVI (Fisâu a Mewnfudo y DU).
Euogfarnau troseddol
You are not required to complete a DBS (Disclosure Barring Service) check or provide a Certificate of Good Conduct to study this course.
If you are currently subject to any licence condition or monitoring restriction that could affect your ability to successfully complete your studies, you will be required to disclose your criminal record. Conditions include, but are not limited to:
access to computers or devices that can store images
use of internet and communication tools/devices
curfews
freedom of movement, including the ability to travel to outside of the UK or to undertake a placement/studies outside of Cardiff University
contact with people related to Cardiff University.
Strwythur y cwrs
This course is presented as a one-year, full-time Master's level programme.
The programme takes place over two stages: In Part 1, you follow taught modules to the value of 120 credits, whilst Part 2 consists of a Dissertation or research project based module worth 60 credits.
In the full-time programme, you will undertake taught modules during the first seven months of the programme, and will then proceed to the new venture plan and dissertation stage. At this point, you will also then be able to apply to the Alacrity Foundation to take part in their "boot camp" which helps to equip you with the skills to set up your own business.
Mae'r modiwlau a ddangosir yn esiampl o'r cwricwlwm arferol. Byddant yn cael eu hadolygu cyn blwyddyn academaidd 2021/22. Bydd y modiwlau terfynol yn cael eu cyhoeddi erbyn mis Medi 2021.
Mae'r Brifysgol wedi ymrwymo i ddarparu amrywiaeth eang o opsiynau modiwl lle'n bosibl. Ond byddwch yn ymwybodol er y byddwn yn gwneud pob ymdrech i gynnig dewis, gall hyn gael ei gyfyngu mewn rhai amgylchiadau. Y rheswm am hyn yw'r ffaith mai dim ond nifer cyfyngedig o leoedd sydd ar gael ar rai modiwlau, a gaiff eu dyrannu ar sail y cyntaf i'r felin. Mae'n ofynnol i fodiwlau eraill sicrhau isafswm nifer o fyfyrwyr cyn gallu eu cynnal, er mwyn gwneud yn siŵr y gellir cyflwyno addysg o ansawdd priodol. Gall modiwlau gael eu cyfyngu oherwydd gwrthdaro yn yr amserlen hefyd, ac er bod y Brifysgol yn ymdrechu i amharu cyn lleied â phosibl ar eich dewis, byddai'n syniad da i chi ofyn am gyngor gan yr Ysgol berthnasol am y dewisiadau modiwl sydd ar gael.
Dysgu ac asesu
Sut y caf fy addysgu?
A wide range of teaching styles will be used to deliver the diverse material forming the curriculum of the programme, and you will be required to attend lectures and participate in examples classes.
A 10-credit module represents approximately 100 hours of study in total, which includes 24–36 hours of contact time with teaching staff. The remaining hours are intended to be for private study, coursework, revision and assessment.
At the dissertation stage, you will be allocated a supervisor in the relevant field of research whom you should expect to meet with regularly. Dissertation topics are presented via the Alacrity Foundation.
Learning Central, the Cardiff University virtual learning environment (VLE), will be used extensively to communicate, support lectures and provide general programme materials such as reading lists and module descriptions. It may also be used to provide self-testing assessment and give feedback.
Sut y caf fy asesu?
Assessment
Achievement of learning outcomes in the majority of modules is assessed by a combination of coursework assignments, plus University examinations set in January and May. Examinations count for 60%–70% of assessment in Stage 1 of the programme, depending on the options chosen, the remainder being largely project work and pieces of coursework.
Award of an MSc requires successful completion of Stage 2, the Dissertation, with a mark of 50% or higher.
Feedback
Feedback on coursework may be provided via written comments on work submitted, by provision of 'model' answers and/or through discussion in contact sessions.
Sut y caf fy nghefnogi?
You will be allocated a personal tutor to assist them with both academic progress and pastoral support when required. The personal tutor will meet with you early on in the programme, and as required thereafter.
Pa sgiliau y byddaf yn eu hymarfer a'u datblygu?
On completing the course you will have developed key skills which can be applied to a variety of industrial and academic working environments. You will have gained learning skills including:
The ability to take an entrepreneurial approach to product design, strategic pricing, market engagement and implementation programmes.
The ability to identify stakeholder needs and conduct market research.
Originality, competence and confidence in tackling both familiar and unfamiliar problems.
The ability to conceive, plan, undertake and manage an engineering project to a professional level.
Critical problem-solving skills, using a range of methodologies important to new product/service development.
An understanding of critical parts of a marketing strategy focusing on a new product/service.
The ability to model and characterise the components used in modern communications systems, and understand the differences between a model-based approach and an iterative dynamic modelling method employing real device elements.
An understanding of the hardware and software infrastructures used in the development of computer networks - including an appreciation of relevant industry standards and the use of current software tools associated with the widening role of internet-based communication.
Ffioedd dysgu
Myfyrwyr o'r DU
| Ffioedd Dysgu (2021/22) | Blaendal |
| --- | --- |
| £14,200 | Dim |
Myfyrwyr o'r UE, AEE a'r Swistir
Bydd gwladolion yr UE, yr AEE a'r Swistir sy'n dechrau yn 2020/21 yn talu'r un ffioedd dysgu â myfyrwyr y DU drwy gydol eu cwrs.
Os ydych chi'n wladolyn o'r UE/AEE neu'r Swistir, oni bai eich bod yn gymwys i gael statws ffioedd y DU, bydd ffioedd dysgu ar gyfer 2021/22 yn unol â'r ffioedd a godir ar fyfyrwyr rhyngwladol. Mae UKCISA wedi darparu gwybodaeth am Brexit a ffioedd dysgu.
Myfyrwyr o weddill y byd (rhyngwladol)
| Ffioedd Dysgu (2021/22) | Blaendal |
| --- | --- |
| £21,950 | £1,000 |
Rhagor o wybodaeth am ffioedd dysgu a blaendaliadau, gan gynnwys ar gyfer myfyrwyr rhan-amser a pharhaus.
Cymorth ariannol
Gallai cymorth ariannol fod ar gael ar gyfer unigolion sy'n bodloni rhai meini prawf. Cewch ragor o wybodaeth yn ein hadran arian. Dim ond hyn a hyn o gymorth ariannol y gall y ffynonellau hyn eu cynnig, felly ni allwn warantu y bydd pawb sy'n bodloni'r meini prawf yn cael arian.
Costau ychwanegol
A fydd angen unrhyw gyfarpar penodol arnaf I astudio'r cwrs hwn?
No specific equipment is required for this course.
Costau byw
Rydym wedi ein lleoli yn un o ddinasoedd mwyaf fforddiadwy y DU. Rhagor o wybodaeth am gostau byw yng Nghaerdydd.
Gyrfaoedd a lleoliadau gwaith
Career prospects are generally excellent with graduating students following paths either into research, business or related industry. After graduating, a number of students start their own businesses.
In terms of research, Cardiff University has many electrical, electronic and microwave related research areas that require PhD students if you wish to undertake further postgraduate study.
Lleoliadau
Applicants to the MSc programme will have the opportunity to make an additional application to the Alacrity Foundation. If successful, the five-month industrial project will be based within the Foundation in Newport and attract a tax-free stipend of £13,800 from month nine of their MSc programme.
Participants will then be required to commit to the Alacrity programme for an additional fifteen months.