Biowybodeg (MSc)
Hyd: Tair blynedd
Dull astudio: Rhan amser
---
Pam astudio'r cwrs hwn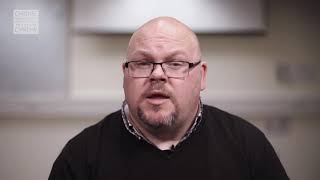 Nod y rhaglen yw rhoi cyfle i unigolion archwilio, dadansoddi a dehongli data biolegol cyfoes. Mae'r cwrs hwn yn cynnig addysg ar lefel gradd Meistr mewn Biowybodeg, gan ganolbwyntio ar fiowybodeg genomig.
With a focus on human genomic bioinformatics, this programme is ideal for graduates from a life sciences, mathematics, or computer sciences discipline.
It will provide you with the skills and knowledge of computational and statistical biosciences to prepare you for a challenging career in academic research, biotechnology, or the pharmaceutical and healthcare industries.
Bioinformatics is the field of study that utilises computational tools to understand biology. You will develop key skills for the analyses of data including genomics data from next generation sequencing technologies. Additional skills around emerging omics including metabolomics and proteomics will also be developed.
This programme has been designed to meet the growing demand from academic research, biotechnology and the pharmaceutical and health care industries for capable informaticians with bioinformatics skills. We will provide instruction in computational and statistical biosciences and you will foster the additional complementary skills required to enable you to work effectively within a multidisciplinary bioinformatics arena.
Aims of the programme
To introduce the commonly exploited computational, statistical and analytical approaches to post genomic biology and genetics;
To develop skills to understand and critically evaluate research methodologies and conclusions that allow you to make sound judgements about the applicability of these techniques to your own research;
To develop competency in both the design and analysis of studies and the effective extraction of information in genetics, genomics and other biosciences coupled with the ability to communicate the information, results, issues and ideas to audiences of both a specialist and non-specialist background;
To prepare and provide guidance to perform an original piece of research within the specialist area in which you wish to pursue your career.
Nodweddion unigryw
This course was first established over a decade ago in response to the completion of the first drafts of the human genome project and the subsequent informatics needs of the genetics and genomics communities. Ongoing advances in genomic technologies and analytic approaches have dictated the continuing evolution of this programme to provide contemporary instruction in new essential skills.
Our course is accessible to students with primary degrees in mathematics, life sciences or computing. Modules in core complementary areas such as in computation/scripting, statistics and molecular biology provide the fundamental building blocks necessary to succeed in bioinformatic analysis and interpretation.
In the Spring Semester, you will undertake a 20-credit case-study. This will include taught elements in research skills and involve working directly with a client using real data. You will be embedded in one of the many research centres across campus and gain valuable experience in delivering bioinformatics projects for research programmes. The resulting data will also be presented alongside your peers at our case-study poster sessions.
You will be taught essential organisation and coding skills and given extended instruction in statistics. If you are not from a life sciences background, we will introduce you to the biology behind the data and help you make informed decisions around data choice and interpretation.
---
Rydym wedi ymrwymo i gyflwyno rhaglenni sy'n arloesol ac yn berthnasol, a chynnig y deilliannau dysgu a'r rhagolygon gyrfaol gorau i'n myfyrwyr. O gofio hyn, rydym yn adolygu rhai elfennau o'r rhaglen hon ar hyn o bryd. Felly, mae'r manylion yn rhai dangosol yn unig a gallent gael eu newid. Gallwch gyflwyno cais o hyd. Byddwn yn diweddaru'r dudalen hon ac yn cysylltu â'r holl ddeiliaid cynnig pan fydd yr adolygiad wedi'i gwblhau er mwyn cadarnhau unrhyw newidiadau.
Ble byddwch yn astudio
Rydym ni'n un o ysgolion meddygaeth fwyaf y DU, wedi ein hymrwymo i geisio gwella iechyd pobl drwy addysg ac ymchwil.
Ysbyty Athrofaol Cymru, Parc y Mynydd Bychan, Caerdydd, CF14 4XN
Meini prawf derbyn
In addition to satisfying the requirements of the Cardiff University General Entrance Requirements, meeting English language requirements IELTS of at least 7.5 with 6.5 in each subsection, at the discretion of the relevant Board of Studies, applicants will:
• normally possess a minimum of an upper second-class (or equivalent) primary degree in a bioscience or computing or mathematics/statistics.
• Graduates in other subject areas with a degree awarded by a recognised Institution will be considered by the course Admissions Committee.
At the discretion of the Board of Studies, non-graduates whose relative lack of formal qualifications or graduates who were awarded a lower-second class (or equivalent) degree may be accepted for study by compensation for their relevant work experience. The candidate must provide evidence that they have held, for a minimum period of two years, a position of responsibility relevant to the programme.
You will also need to provide a personal statement. Your personal statement should provide information that is relevant to your application for admission to tell us why you wish to follow this programme, what benefits you expect to gain from it, and what skills and experience you possess which make you a suitable applicant. You must use the questions below as headings in your document:
1. What motivates you to apply for this course?
2. How would you describe your computer literacy and what coding experience do you have?
3. How would you describe your knowledge of statistics?
4. How would you describe your knowledge of molecular biology and genetics?
5. If you have previously applied for this course and were unsuccessful, describe what further experience you have gained which may strengthen your application.
Application deadline
Please note: the programme requires a minimum number of students in order to run. Places are limited and early application is recommended. The closing date for applications is 31 July. If student numbers are not met by the 31 July we cannot guarantee that the programme will run.
Rhagor o wybodaeth am ofynion Iaith Saesneg.
Mae'n rhaid i ymgeiswyr sydd angen Fisa myfyriwr i astudio yn y DU gyflwyno cymhwyster iaith Saesneg derbyniol er mwyn bodloni gofynion UKVI (Fisâu a Mewnfudo y DU).
Euogfarnau troseddol
You are not required to complete a DBS (Disclosure Barring Service) check or provide a Certificate of Good Conduct to study this course.
If you are currently subject to any licence condition or monitoring restriction that could affect your ability to successfully complete your studies, you will be required to disclose your criminal record. Conditions include, but are not limited to:
access to computers or devices that can store images
use of internet and communication tools/devices
curfews
freedom of movement
contact with people related to Cardiff University.
Strwythur y cwrs
Both full-time and part-time students register initially for the MSc in Bioinformatics.
You may exit the course with a Postgraduate Certificate if you successfully complete 60 credits. Alternatively, you may leave with a Postgraduate Diploma on successful completion of 120 credits. Module restrictions apply in both cases.
The part-time MSc is delivered across three years consisting of three stages – the first taught stage (T1), the second taught stage (T2) and the research dissertation stage (R). The first taught stage of the programme lasts one academic year and consists of three 20-credit modules, totalling 60 credits, at Level 7. The second taught stage lasts one academic year and consists of three further 20-credit modules one of which is a case study, totalling 60 credits, at Level 7. The dissertation stage of the programme runs one academic year and includes a dissertation of 60 credits at Level 7, to achieve a combined total of 180 credits at Level 7 to complete the MSc programme.
Your dissertation will embody the results of your prior project work. The subject of each dissertation will be approved by the Chair of the Board of Studies concerned or his/her nominee. The dissertation will be assigned 60 credits and be weighted 50% for calculating the final mark.
Mae'r modiwlau a ddangosir yn esiampl o'r cwricwlwm arferol. Byddant yn cael eu hadolygu cyn blwyddyn academaidd 2022/23. Bydd y modiwlau terfynol yn cael eu cyhoeddi erbyn mis Medi 2022.
Blwyddyn un
Bydd y cwrs rhan-amser yn cael ei gyflwyno dros dair blynedd.
Yn ystod blwyddyn gyntaf y cwrs, bydd yn cael ei asesu gan ddefnyddio gwaith cwrs a thrwy gyflwyniadau myfyrwyr. Yn Semester yr Hydref, byddwch yn cyflawni modiwl 20 credyd 5 wythnos yn gyntaf a gynlluniwyd i ddatblygu ac atgyfnerthu'r sgiliau cyfrifiadurol a sgriptio angenrheidiol ar gyfer trin a dadansoddi data; bydd hyn yn cynnwys elfennau ar linell orchymyn, cyfrifiadura perfformiad uchel, ieithoedd sgriptio a delweddu data.
O ganol Semester yr Hydref, byddwch yn ymgymryd â modiwl 20 credyd - cyflwyniad i fiowybodeg a bydd hyn yn cael ei gyflwyno dros 10 wythnos ac yn ymestyn i Semester y Gwanwyn.
Yn Semester y Gwanwyn, byddwch yn ymgymryd â modiwl 20 credyd yn y flwyddyn nesaf. Bydd y modiwl hwn yn rhedeg i mewn i Semester yr Haf.
Blwyddyn dau
Yn yr ail flwyddyn o Semester yr Hydref, byddwch yn astudio modiwl 20 credyd mewn ystadegau ar gyfer biowybodeg ac epidemioleg genetig a bydd hyn yn ymestyn i Semester y Gwanwyn.  Mae ail fodiwl 20 credyd yn cynnwys astudiaeth achos sy'n rhedeg yn Semester y Gwanwyn a thrydydd modiwl 20 credyd mewn bioleg proteinau ac omeg sy'n ymestyn i Semester yr Haf.
Blwyddyn tri
Ym mlwyddyn 3 byddwch yn ymgymryd â phrosiect ymchwil 15 wythnos a fydd yn arwain at ysgrifennu eich traethawd ymchwil.
Mae'r Brifysgol wedi ymrwymo i ddarparu amrywiaeth eang o opsiynau modiwl lle'n bosibl. Ond byddwch yn ymwybodol er y byddwn yn gwneud pob ymdrech i gynnig dewis, gall hyn gael ei gyfyngu mewn rhai amgylchiadau. Y rheswm am hyn yw'r ffaith mai dim ond nifer cyfyngedig o leoedd sydd ar gael ar rai modiwlau, a gaiff eu dyrannu ar sail y cyntaf i'r felin. Mae'n ofynnol i fodiwlau eraill sicrhau isafswm nifer o fyfyrwyr cyn gallu eu cynnal, er mwyn gwneud yn siŵr y gellir cyflwyno addysg o ansawdd priodol. Gall modiwlau gael eu cyfyngu oherwydd gwrthdaro yn yr amserlen hefyd, ac er bod y Brifysgol yn ymdrechu i amharu cyn lleied â phosibl ar eich dewis, byddai'n syniad da i chi ofyn am gyngor gan yr Ysgol berthnasol am y dewisiadau modiwl sydd ar gael.
Dysgu ac asesu
Sut y caf fy addysgu?
The programme is delivered face-to-face in Cardiff. You will have access to course materials, links to related materials and assessments via our virtual learning environment.
Each module will be delivered using a small-group classroom-model (< 20 participants per session).You will be expected to commit to approximately 200 hours of effort per module; from this you will receive approximately 60 hours of face-to-face contact. This will be delivered through approximately 20 teaching sessions. Each teaching session will be 3-hours with appropriate breaks.
Teaching sessions will include a combination of elements such as theory (blackboard learning), computer practical, group-work and tutorial. We believe that application and interaction are crucial for a bioinformatics-based course and there will be an emphasis on these. Where appropriate, some theory will be delivered as lectures.
Each session will take a variety of forms, but the overall structure will be to achieve 2-3 key learning outcomes per session via introduction to key concepts, conveying relevant up-to-date information and exposure to research methodology and application.
In the teaching sessions, we will provide feedback on formative assessments and course content. In these elements, you will have the opportunity to discuss themes or topics, to consolidate and get feedback on your individual learning and to develop skills in oral presentation. Communication skills will be developed in tutorials, where you will make individual contributions to group study; for example, by summarising a formative assessment or outcomes from group sessions.
You will practise and develop theory, intellectual skills, team-work and presentational skills by participating in diverse learning activities, such as solving bioinformatics problems, small-group discussions, oral presentations, independent research tasks and written assignments.
Sut y caf fy asesu?
Our preferred assessment methods include coursework and presentation. You will generally receive two coursework elements; a theory-driven review paper (e.g. a "compare and contrast" essay), and an applied research project.
Coursework and assessments will vary depending on the module and will be designed to test your knowledge and understanding of topics, as well as key intellectual skills, practical skills, and transferable skills.
Coursework may include data analysis, programming exercises, written reports, problem-based exercises, case studies, practical assignments, slide and poster presentations.
Formative assessments and feedback
These are assessments that do not contribute to progression or degree classification decisions. The goal of formative feedback is to improve your understanding and learning before you complete your summative assessment. More specifically, it helps you to identify your strengths and weaknesses, and helps staff to support you in improving these areas.
The development of skills in data sciences requires practice. You learn through your successes and failures. You will receive short questions and tasks as part of the teaching sessions. These formative tasks will help reinforce your learning and provide useful feedback to the course co-ordinators about where we can improve and focus resources.
Although formative marks will not contribute to progression or degree classification decisions, appropriate investment in these tasks will assist the summative elements of the module.
Summative assessments and feedback
These assessments contribute to progression or degree classification decisions. The goal of summative assessment is to indicate how well you have succeeded in meeting the intended learning outcomes of a module and will enable you to identify any action required to improve.
Sut y caf fy nghefnogi?
During induction you will be given an introductory session to help you make the most of tutoring, library services, and available resources.
You will be supported by a personal tutor with the aim of encouraging both academic success and personal well-being and development.
From an academic viewpoint, your tutor is there to provide guidance on any general academic issues/questions arising from the course and to encourage you to pursue self-directed learning. The role of the tutor is not to read or mark assignment drafts, but they can communicate with you about any topic that you may find challenging. You will receive detailed feedback from the module team on completed assignments and you will be able to discuss this feedback with your tutor
During the MSc dissertation stage, you will also be allocated a Dissertation Supervisor who will guide your planning and advise you as you complete your project.
Pa sgiliau y byddaf yn eu hymarfer a'u datblygu?
Upon completing the programme, you will be able to demonstrate:
a systematic understanding of the principles of statistics, biosciences and computer science that are the foundations of genetic epidemiology and bioinformatics;
a knowledge of current bioinformatics software and databases and their applicability to solving bioinformatics problems in the field and in their own research;
a keen awareness, understanding and critical appreciation of the wide variety of statistical methods available to analyse genetic data together with appreciation of the issues involved in study design;
a knowledge of statistical software used to analyse omics data and the situations in which the packages should/should not be applied;
integrate acquired knowledge and understanding with practical skills resulting in a sound approach to problem solving;
synthesise information from a variety of sources at the forefront of Genomics and Bioinformatics;
critically evaluate different approaches to solving problems and to demonstrate their applicability, strengths and weaknesses;
formulate hypotheses and use analytical skills to test these hypotheses. Interpret the results and make decisions in the light of all available information in possibly complex and unpredictable situations;
undertake a semi-independent piece of original research or critical review demonstrating self-initiative, responsibility for planning and carrying out tasks, tackling and solving research problems;
the ability to assess the correct type of analysis for a dataset and to perform it using an appropriate computer package;
competency in accessing and using bioinformatics tools from a variety of sources;
computer programming skills and competency in good program design;
the ability to design, implement and analyse algorithms for bioinformatics applications;
the ability to produce case study reports on major topics within the fields of bioinformatics and biostatistics;
competent research skills such as literature searches;
work independently, to manage his/her own time and to take responsibility for learning required for continued professional development;
effectively manage individual tasks and larger scale projects identifying and resolving possible obstacles;
work as part of interdisciplinary teams, identifying individual's strengths and weaknesses and allocating work accordingly to meet the team's objectives;
competently use information technology such as e-mail, word-processors, software tools and the world-wide we transfer computing skills and concepts to subsequently unfamiliar packages/languages/databases;
present information, understanding and arguments using effective communication (written and oral) with awareness of intended audience.
Ffioedd dysgu ar gyfer dechrau astudio yn 2022
Oherwydd hyd y rhaglen hon, dim ond myfyrwyr sy'n dod o Gymru a'r UE sy'n bodloni'r gofynion preswylio (mae myfyrwyr sy'n dod o Loegr wedi'u heithrio) sy'n gymwys i gael benthyciad ôl-raddedig. Rhagor o wybodaeth am gymhwysedd ar gyfer benthyciadau Llywodraeth y DU i Ôl-raddedigion.
Myfyrwyr o'r DU
| Blwyddyn | Ffioedd Dysgu | Blaendal |
| --- | --- | --- |
| Blwyddyn un | £5,100 | £1,000 |
Myfyrwyr o'r UE, AEE a'r Swistir
Os ydych chi'n wladolyn o'r UE/AEE neu'r Swistir, oni bai eich bod yn gymwys i gael statws ffioedd y DU, bydd eich ffioedd dysgu yn unol â'r ffioedd a godir ar fyfyrwyr rhyngwladol. Mae UKCISA wedi darparu gwybodaeth am Brexit a ffioedd dysgu.
Myfyrwyr o weddill y byd (rhyngwladol)
| Blwyddyn | Ffioedd Dysgu | Blaendal |
| --- | --- | --- |
| Blwyddyn un | £11,725 | £1,000 |
Rhagor o wybodaeth am ffioedd dysgu a blaendaliadau, gan gynnwys ar gyfer myfyrwyr rhan-amser a pharhaus.
Cymorth ariannol
Gallai cymorth ariannol fod ar gael ar gyfer unigolion sy'n bodloni rhai meini prawf. Cewch ragor o wybodaeth yn ein hadran arian. Dim ond hyn a hyn o gymorth ariannol y gall y ffynonellau hyn eu cynnig, felly ni allwn warantu y bydd pawb sy'n bodloni'r meini prawf yn cael arian.
Costau ychwanegol
It is expected that all students will have their own laptop computer. Please liaise with the Programme Director before purchasing any hardware for further advice on the right choice of machine. You will also require regular access to a reliable broadband internet connection. No additional costs are necessary with this Programme
A fydd angen unrhyw gyfarpar penodol arnaf I astudio'r cwrs hwn?
Bydd angen i chi ddarparu cyfrifiadur dibynadwy gyda mynediad priodol i'r Rhyngrwyd, gyda'r amddiffyniad diweddaraf yn erbyn feirysau a maleiswedd.
Bydd angen meddalwedd prosesu geiriau, sy'n gydnaws â Microsoft Word, i gyflawni'r tasgau a'r asesiadau crynodol a ffurfiannol. Gall meddalwedd arall hefyd fod yn ddefnyddiol ar rai adegau yn y rhaglen ar gyfer casglu/dadansoddi data, er enghraifft Microsoft Excel, neu greu cyflwyniadau, er enghraifft Microsoft PowerPoint.
Costau byw
Rydym wedi ein lleoli yn un o ddinasoedd mwyaf fforddiadwy y DU. Rhagor o wybodaeth am gostau byw yng Nghaerdydd.
Gyrfaoedd graddedigion
Rydym wedi ymrwymo i ddatblygu sgiliau trosglwyddadwy ac i wella cyflogadwyedd graddedig. Rydym eisiau gwybodegwyr graddedig hynod alluog sy'n gallu bodloni anghenion gwybodeg cynyddol cyflogwyr lleol, cenedlaethol a rhyngwladol. Dyna pam y mae'r rhaglen hon wedi'i chynllunio gydag anghenion ymchwil academaidd, y diwydiannau biotechnoleg, fferyllol a gofal iechyd mewn golwg. Bydd cyfarwyddyd mewn biowyddorau cyfrifiadurol ac ystadegol yn galluogi chi i weithio'n effeithiol o fewn maes biowybodeg amlddisgyblaethol.
Cofrestrodd ein carfan gyntaf o bump o fyfyrwyr i'r MSc ar ei newydd wedd ym mis Medi 2018. Ym mis Gorffennaf 2019 mae un myfyriwr wedi derbyn swydd PhD, ac mae dau wedi derbyn swyddi cyswllt ymchwil mewn biowybodeg.
Yn hanesyddol, o 2004-2017 mae'r rhaglen hon wedi gweld tua 24% o fyfyrwyr yn mynd i mewn i PhD sy'n uniongyrchol gysylltiedig â biowybodeg, aeth 17% o fyfyrwyr i mewn i PhD arall mewn meysydd biofeddygaeth eraill; 10% wedi ymuno â gradd MSc/TAR/meddygol; a thua 49% wedi cael cyflogaeth yn ymwneud â biowybodeg, bioystadegau neu wyddor data arall .
---
Data HESA: Hawlfraint yr Asiantaeth Ystadegau Addysg Uwch Cyfyngedig 2020. Ni all yr Asiantaeth Ystadegau Addysg Uwch Cyfyngedig dderbyn cyfrifoldeb am unrhyw gasgliadau neu benderfyniadau sy'n deillio o drydydd partïon o'i data. Daw'r data o Arolwg Hynt Graddedigion Diweddaraf 2017/18 a gyhoeddwyd gan HESA ym mis Mehefin 2020.