Astroffiseg (MSc)
Hyd: 1 flwyddyn
Dull astudio: Amser llawn
Mae'r cynnwys hwn ar gael yn Saesneg yn unig.
---
Pam astudio'r cwrs hwn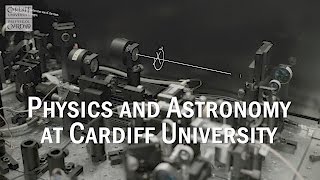 Mae'r pynciau a addysgir yn adlewyrchu ein cryfderau rhagorol mewn ymchwil ddamcaniaethol, arsylwadol ac offerynnol ac mae'n cynnwys Cosmoleg, Uwch-Berthynoledd Cyffredinol a Thonnau Disgychol, Offeryniaeth ar gyfer Seryddiaeth a Thechnegau mewn Astroffiseg.
Our MSc in Astrophysics is a full-time degree course which aims to provide specialist training and an edge in a highly competitive recruitment market to students who wish to work in the field of astrophysics. On the course, we will cover theoretical, observational and instrumental areas in astrophysics and other scientific disciplines. We encourage you to develop a critical awareness of current research problems and new insights at the forefront of astronomy and astrophysics. We will also discuss the working context of the modern astrophysicist, including the safety, ethical, and research environments.
On completing the course students should be able to pursue a career in academic research, physical science industrial practice, research and development, or in other highly-skilled numerate careers.
Nodweddion unigryw
Tailor the course to your interests with our broad range of optional modules.
Benefit from our School-based facilities including laboratories and computing facilities.
Research-led MSc programme, with taught components delivered by experts in their field.
You will be part of the School's postgraduate community and will have the support of a personal tutor.
The high level analytical and numeracy skills that are the basis of this course will open up opportunities in a wide range of professions.
Ble byddwch yn astudio
Mae ein rhaglenni gradd wedi'u hachredu gan y Sefydliad Ffiseg yn cynnwys meysydd arbenigol sy'n adlewyrchu ein diddordebau ymchwil.
5 The Parade, Heol Casnewydd, Caerdydd, CF24 3AA
Meini prawf derbyn
Academic requirements:
Typically, you will need to have either:
a 2:1 honours degree in a relevant subject area such as physics, mathematics, engineering, a related physical science, astrophysics, astronomy or an equivalent international degree
a university-recognised equivalent academic qualification.
or relevant professional experience evidenced by a reference. This should be signed, dated and less than six months old at the time you submit your application.
English Language requirements:
IELTS with an overall score of 6.5 with 5.5 in all subskills, or an accepted equivalent.
Other essential requirements:
You will also need to provide two academic references.
Application deadline:
We allocate places on a first-come, first-served basis, so we recommend you apply as early as possible.
Selection process:
We will review your application and if you meet the entry requirements, we will make you an offer.
Rhagor o wybodaeth am ofynion Iaith Saesneg.
Mae'n rhaid i ymgeiswyr sydd angen Fisa myfyriwr i astudio yn y DU gyflwyno cymhwyster iaith Saesneg derbyniol er mwyn bodloni gofynion UKVI (Fisâu a Mewnfudo y DU).
Euogfarnau troseddol
Nid yw'n ofynnol i chi gwblhau gwiriad DBS (Gwasanaeth Gwahardd Datgelu) na darparu Tystysgrif Ymddygiad Da i astudio'r cwrs hwn.
Os ydych chi'n destun unrhyw amod trwydded neu gyfyngiad monitro ar hyn o bryd a allai effeithio ar eich gallu i gwblhau'ch astudiaethau yn llwyddiannus, bydd gofyn i chi ddatgelu'ch cofnod troseddol. Mae'r amodau'n cynnwys, ond heb fod yn gyfyngedig i:
mynediad at gyfrifiaduron neu ddyfeisiau sy'n gallu storio delweddau
defnyddio offer / dyfeisiau rhyngrwyd a chyfathrebu
cyrffyw
rhyddid i symud
cyswllt â phobl sy'n gysylltiedig â Phrifysgol Caerdydd.
Strwythur y cwrs
There are two stages to this programme. The first stage consists of core and optional taught modules which total 120 credits. These are split across the autumn and spring semester.
Once you have successfully passed the first stage, you may progress onto the second stage of the programme which is a research project (60 credits). You will undertake a 4-month research project, either with one of the research groups in our School or externally during a placement with one of our industrial partners. You will then complete a dissertation outlining your research. The dissertation should be carried out independently under supervision from an appropriate member of academic staff with research interests in your chosen area.
Mae'r modiwlau a ddangosir yn esiampl o'r cwricwlwm arferol. Byddant yn cael eu hadolygu cyn blwyddyn academaidd 2022/23. Bydd y modiwlau terfynol yn cael eu cyhoeddi erbyn mis Medi 2022.
This is a full 12-month programme. You will undertake all core and optional taught modules in year one. You will also complete a 4-month summer research project which will be assessed through a dissertation.
Mae'r Brifysgol wedi ymrwymo i ddarparu amrywiaeth eang o opsiynau modiwl lle'n bosibl. Ond byddwch yn ymwybodol er y byddwn yn gwneud pob ymdrech i gynnig dewis, gall hyn gael ei gyfyngu mewn rhai amgylchiadau. Y rheswm am hyn yw'r ffaith mai dim ond nifer cyfyngedig o leoedd sydd ar gael ar rai modiwlau, a gaiff eu dyrannu ar sail y cyntaf i'r felin. Mae'n ofynnol i fodiwlau eraill sicrhau isafswm nifer o fyfyrwyr cyn gallu eu cynnal, er mwyn gwneud yn siŵr y gellir cyflwyno addysg o ansawdd priodol. Gall modiwlau gael eu cyfyngu oherwydd gwrthdaro yn yr amserlen hefyd, ac er bod y Brifysgol yn ymdrechu i amharu cyn lleied â phosibl ar eich dewis, byddai'n syniad da i chi ofyn am gyngor gan yr Ysgol berthnasol am y dewisiadau modiwl sydd ar gael.
Dysgu ac asesu
Sut y caf fy addysgu?
At Cardiff we provide dedicated taught master's teaching facilities including a dedicated teaching laboratory, seminar and meeting rooms and quiet study space. PCs for the exclusive use of the taught master's cohort are provided throughout.
Our MSc programmes are designed around the central idea of building a taught master's community which works together as a group to enhance learning. This innovative design was presented to the wider UK Higher Education Teaching Specialist Community at the Variety in Chemistry Education / Physics Education (ViCE/PHEC) Conference in 2016 alongside our undergraduate and outreach innovations. You can therefore be assured that your MSc course has been designed and implemented with reference to the latest developments in educational research and methodology.
The methods of teaching we employ will vary from module to module, as appropriate depending on the backgrounds of the students present, the subject matter and the method(s) of assessment. Our teaching contact time is typically a mixture of lectures, seminars, tutorials, group sessions and practicals.
From the outset of the autumn term, we will introduce you to our dedicated teaching facilities, open-access areas and our research laboratories. This will allow you to easily integrate into the School community. Our MSc cohort also meets regularly as a group to discuss research topics, present papers and to tackle group exercises and undergo advanced practical skills training together.
We will allocate both a supervisor and mentor to you for your summer research project. Usually your supervisor will be a member of academic staff with an internationally-recognised expertise in the field of research. You will meet regularly with your supervisor and their group throughout your project. Your project mentor is an impartial member of academic staff who will monitor your progress, provide advice and ensure the smooth running of your summer research project.
Sut y caf fy asesu?
Your achievement of the learning outcomes in our taught modules will be assessed in examinations each semester.
Your research project at the end of the course will be assessed through a dissertation. Your research topic can be chosen from a range of project titles proposed by academic staff, usually in areas of current research interest. You are also encouraged to put forward your own project idea.
Sut y caf fy nghefnogi?
All of our students are allocated a personal tutor when they enrol on the course. A personal tutor is there to support you during your studies, and can advise you on academic and personal matters that may be affecting you. You should have regular meetings with your personal tutor to ensure that you are fully supported.
You will have access to the Trevithick Library, which holds our collection of physics and astrophysics resources, as well as resources from Engineering and Computer Sciences disciplines.
We will provide you with a copy of the Student Handbook, which contains details of the School's policies and procedures. We also support students through the University's virtual learning environment, Learning Central, where you can ask questions in a forum or find course-related documents.
Cardiff University also offers a wide range of support services which are open to our students, such as the Graduate Centre, counselling and wellbeing, financial and careers advisors, the international office and the Student Union.
Feedback
We offer written and oral feedback, depending on the coursework or assessment you have undertaken. You will usually receive timely feedback from the module leader. If you have questions regarding your feedback, module leaders are usually happy to give advice and guidance on your progress.
Pa sgiliau y byddaf yn eu hymarfer a'u datblygu?
Understand the fundamental laws and principles of physics, and be able to apply them to variety of areas in astronomy and astrophysics.
Possess a working knowledge of a variety of experimental, mathematical and computational techniques applicable to current research within astrophysics.
Understand the limitations of current knowledge, and technologies and the need to gain new knowledge through further study.
Know how to plan, execute and report the results of an investigation or experiment and to analyse and evaluate its outcomes in relation to underlying current theories.
Have the ability to communicate complex scientific ideas, the conclusions of an experiment, investigation or project concisely, accurately and informatively.
Ffioedd dysgu ar gyfer dechrau astudio yn 2022
Myfyrwyr o'r DU
| Blwyddyn | Ffioedd Dysgu | Blaendal |
| --- | --- | --- |
| Blwyddyn un | £10,200 | Dim |
Myfyrwyr o'r UE, AEE a'r Swistir
Os ydych chi'n wladolyn o'r UE/AEE neu'r Swistir, oni bai eich bod yn gymwys i gael statws ffioedd y DU, bydd eich ffioedd dysgu yn unol â'r ffioedd a godir ar fyfyrwyr rhyngwladol. Mae UKCISA wedi darparu gwybodaeth am Brexit a ffioedd dysgu.
Myfyrwyr o weddill y byd (rhyngwladol)
| Blwyddyn | Ffioedd Dysgu | Blaendal |
| --- | --- | --- |
| Blwyddyn un | £23,450 | £1,000 |
Rhagor o wybodaeth am ffioedd dysgu a blaendaliadau, gan gynnwys ar gyfer myfyrwyr rhan-amser a pharhaus.
Cymorth ariannol
Gallai cymorth ariannol fod ar gael ar gyfer unigolion sy'n bodloni rhai meini prawf. Cewch ragor o wybodaeth yn ein hadran arian. Dim ond hyn a hyn o gymorth ariannol y gall y ffynonellau hyn eu cynnig, felly ni allwn warantu y bydd pawb sy'n bodloni'r meini prawf yn cael arian.
Costau ychwanegol
The School covers the cost of everything that is an essential part of the programme, this will be clearly detailed in all programme information and in any verbal instructions given by tutors.
The University considers that the following costs do not need to be covered by schools as they are either not essential or are basic costs that a student should be expected to cover themselves:
Laptop computers
Calculators
General stationery
Text books (assumed to be available in the library)
Basic copying / printing.
If there are optional costs/fees to be covered by the student, these are not a requirement to pass the degree.
A fydd angen unrhyw gyfarpar penodol arnaf I astudio'r cwrs hwn?
We will provide equipment that is essential to the course. However, we recommend that you bring a laptop computer with appropriate software (e.g. Office applications), USB or a hard drive, general stationery and some basic drawing equipment.
You will be given access to all relevant IT-related software and equipment on our networked computers. You will also have access to experimental equipment in related laboratory sessions.
Costau byw
Rydym wedi ein lleoli yn un o ddinasoedd mwyaf fforddiadwy y DU. Rhagor o wybodaeth am gostau byw yng Nghaerdydd.
Gyrfaoedd a lleoliadau gwaith
An MSc in Astrophysics can open the door to a wide variety of possible future careers. Our past graduates have secured employment in the fields of photonics, biophysics, instrumentation research and development, semiconductor physics both within academic science and industrial practice. You may also choose to undertake further postgraduate study or academic research within the field of astrophysics, or enter a highly-skilled numerate career in another discipline.
Lleoliadau
---
Data HESA: Hawlfraint yr Asiantaeth Ystadegau Addysg Uwch Cyfyngedig 2020. Ni all yr Asiantaeth Ystadegau Addysg Uwch Cyfyngedig dderbyn cyfrifoldeb am unrhyw gasgliadau neu benderfyniadau sy'n deillio o drydydd partïon o'i data. Daw'r data o Arolwg Hynt Graddedigion Diweddaraf 2017/18 a gyhoeddwyd gan HESA ym mis Mehefin 2020.