Studying and support
Mae'r cynnwys hwn ar gael yn Saesneg yn unig.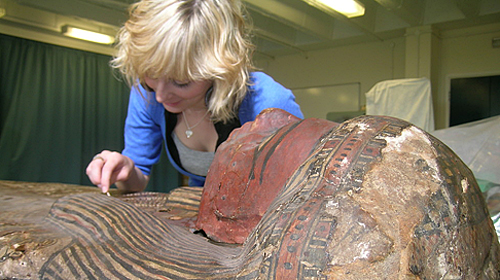 As a study abroad student, you will be fully integrated into our community and take your modules alongside UK and international students pursuing their degrees.
You can be assured of the quality of our teaching with degrees accredited by more than 40 professional bodies.
A different way of studying
Part of your study abroad experience will involve adapting to a new academic culture and system so we aim to give you a better understanding of how studying in the UK may differ and what type of classes you will attend.
Grading system
The grading system at UK universities differs from those in other countries and can cause confusion if you're used to high achieving.
In the UK system, 70% or above is the top band of grades (a 1st) and 40% is a pass (a 3rd). 60-69% (called a 2:1) is considered a good mark.
Semester dates
While UK education is similar to the US system in that the main study semesters are autumn/fall and spring, the UK system generally starts at a later date. For example, the autumn semester usually starts in late September. We do not have a summer semester.
For exact dates visit our semester dates page.
Contact hours
If you study humanities or arts-based subjects, you may find you have less contact hours per week than you are used to in your home university.
This is because university study in the UK is aimed at encouraging a high level of independence and self-directed study. This means you'll be given guidance and help but expected to do a great deal of self-directed research which you may be asked to present or discuss.
Teaching methods and class types
Classes in UK universities are delivered through the following types of classes:
Lectures
Lectures are large classes that usually last for one hour. The lecturer gives a general overview of a topic and students take notes. There is usually little opportunity to ask questions.
Seminars
Seminars are small classes of around 12 students that involve student interaction and discussion is encouraged. Seminars will be based around a theme and you're often asked to prepare a short presentation or materials in advance.
Tutorials
Tutorials can be an individual meeting with a lecturer or with a small group. If it's with a small group, a tutorial can include discussions relating to a particular topic. If it's an individual meeting, the session can be an opportunity for you to discuss the progress of your work, a particular essay or any problems you may be having.
Labs and other subject-specific facilities
Study abroad students are fully integrated into the classes of other students at the University. This means you will work with them in subject-specific facilities such as laboratories and other practical environments.
Assessments
While assessment methods vary between courses, there will probably be a difference to what you are used to in your home university. In arts and humanities subjects especially, you can expect to have a smaller number of longer assignments which you have to plan effectively in order to achieve high grades.
Assignments will require your own research and, where possible, your own ideas. You will commonly be able to write assignments on areas of particular interest to you within a broad area.
Examinations take place at the end of each semester.
Supporting you during your studies
Personal tutor
All students are allocated a personal tutor. Your tutor will be an academic member of staff who will check your progress and can assist you with any academic or personal problems.
Student support
We pride ourselves on providing a student experience that is as productive and happy as possible.
Our Student Support Centre is based on campus and is dedicated to the welfare of all our students.They have specialist advisers who can help you with visas and other international specific issues. Additionally, they offer confidential counselling services if you'd like to speak to someone other than your personal tutor.
Additionally, as a study abroad student, our team is available if you have any questions or concerns during or after your studies with us.
Glossary
A useful guide to better understand some English terminology.
| UK system | US system |
| --- | --- |
| Academic School | Department/college |
| Academic staff/lecturer | Faculty |
| Essay | Assignment/paper |
| Full stop | Period |
| Ground floor | First floor |
| Induction | Orientation |
| Module | Class/course |
| Refectory | Dining Hall |
| Residences | Halls |
| Tick | Check mark |