Research
The Cardiff School of Music is an ambitious centre dedicated to research, composition and performance.
Our staff members currently conduct research on a great variety of musical subjects that include: the music of war, music in Vienna, music on stage and music and the sublime. They are examining musical issues in a wide variety of periods (from the eighteenth to the twenty-first century) and in a wide range of contexts (such as Western Europe, the Middle East and West Africa).
Particular subject specialisms include: historically informed performance practice, British music since 1945, psychedelic experimentation in California, speech surrogacy in Nigeria, musical aesthetics in a cross-cultural perspective as well as postcolonial and evolutionary approaches to composition. Of note, they have completed major studies of individual artists (such as Birtwistle, Haydn, Ohana, Selçuk, Stravinsky and Tippett).
REF 2014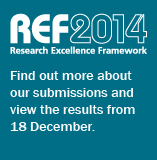 Our reputation for excellence was recognised in the 2014 Research Excellence Framework (REF). The School now ranks 8th in the UK amongst music departments for research excellence.
Significantly, the School scored 90% in the category "research environment" – an esteem indicator of scholarly standing that measures how conducive the environment is to producing research of world-leading quality in terms of its vitality and sustainability. This is more than double the sector average.
Just as significantly, 85% of the School's research has been judged to be either "world-leading" or "internationally excellent."
Research Projects
A selection of recent and ongoing research projects at the School
Research Activities
This section provides a digest of recent and forthcoming research activities
Research Resources
Information on our discrete music collections, public databases, and other useful resources
Postgraduate Research

Details of our postgraduate research programmes, facilities, and student activities