Opportunities
Mae'r cynnwys hwn ar gael yn Saesneg yn unig.

Two new projects have become available, but spaces will be limited. See below for details. To stay up-to-date on all things GOC Volunteering, like our Facebook page or subscribe to our monthly newsletter
Get your applications in soon to be considered for these amazing projects! Applications will be considered on a first come, first served basis.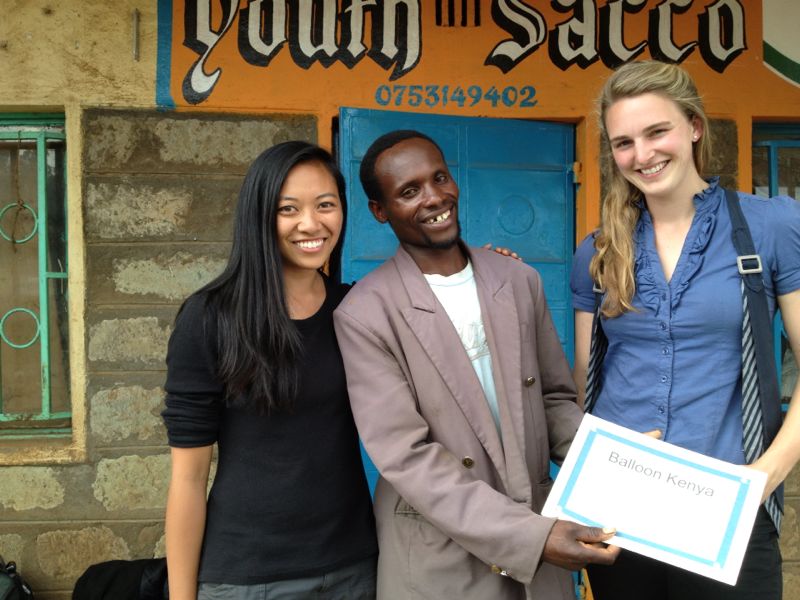 Kenya
Do you want to spend next summer changing people's lives, while exploring a new country and working in a team of diverse young people?
In June or August 2015 work for 6 weeks with entrepreneurs in East Africa imagining, testing and growing exciting businesses that tackle poverty and improve lives.
In week 1 they'll train you in the Balloon Enterprise Curriculum which is recognised for excellence and taught across various universities in the UK. You'll then be teamed up with groups of motivated Kenyan men and women to grow innovative businesses. This will involve testing new ideas with potential customers, creating branding and marketing strategies and creating plans for future growth. On the last weekend your entrepreneurs will pitch for funding and £40,000 will be invested this year. Previously Balloon has invested in everything from fish farming to a dating agency to retail and design so you will get to work across an exciting range of businesses.
Balloon Kenya will give you outstanding business skills, a unique experience leading sustainable development and the opportunity to really make a difference.
For more information visit
Raleigh International
(Borneo, Costa Rica/Nicaragua, and Tanzania)
Be one of a select few students to take part in a Raleigh International sustainable development expedition this summer in Borneo, Costa Rica & Nicaragua or Tanzania.
We are offering the opportunity to take part in a 5-week Raleigh expedition this summer. You will receive a £600 bursary to take part in the programme.
Raleigh International is a sustainable development charity which challenges and inspires young volunteers from around the world to work with communities living in poverty.
What's involved in an expedition?
A Raleigh expedition is a challenging programme that empowers diverse groups of young people to contribute to sustainable development projects.
Raleigh works in partnership with communities, NGO's and governments to run expeditions in Borneo, Costa Rica & Nicaragua and Tanzania. Our expeditions are open to people from all over the world. Teams are diverse and we welcome volunteers of all ages, nationalities and backgrounds.
Why you should take part:
You will develop new skills and gain a great deal in terms of professional development
You will experience new cultures and meet people from all over the world
You make a difference in some of the poorest communities in the world
You will receive a £600 bursary to be able to join an expedition
Gain a better understanding of a Raleigh expedition from this video showing one of their projects in Tanzania.
If you'd like to apply simply submit one of the application forms found at the top right of the page.
Czech Republic
Partner Organisation: UNA Exchange
Local Organisation: Eco Centre and the Region of Living Waters, Czech Republic
Dates: 18/07/2015 – 16/08/2015
This project is for 5 volunteers and will cost £560 + flights
GOC Bursary Available: £500
Volunteers will get the chance to take part in two projects in Czech Republic over four weeks. With the GOC bursary, this works out to 4 weeks of food and accomodation for only £60 plus flights!
Both projects are environmental renovation projects and work consists of active, outdoor activities such as gardening, landscaping and repairing cultural heritage sites.
The first project will take place in a small village in the beautiful Krkonose mountains in Eastern Bohemia. The second will take place in a town famous for its natural hot springs in the Carlsbad region of Western Bohemia. This area is home to lots of beautiful cultural and natural sights. In between the two projects there will be time allocated for sightseeing and tourist activities including hiking, having campfires, swimming, cycling, horse riding and visiting some local cultural events
In addition to the natural beauty of the area, another attractive point about this project is its close proximity to the UK. This means that travel costs will be reasonable.
Environmental Research in the Peruvian Amazon Rainforest
Partner Organisation: People and Places
Local Organisation: Crees
Dates: 4 weeks, July 2015
This project is for 2-10 volunteers (cost information TBC - approx.£1300 + flights) - This project is now CLOSED
GOC Bursary Available: £500
The aim of this project is to support work towards the vision of creating a truly sustainable Amazon, where both humans and nature can live in harmony. Volunteers would spend four weeks at the Manu Learning Centre, an Amazonian research station within one of the world's most bio-diverse hotspots in the world – the Manu Biosphere Reserve, a UNESCO World Heritage Site in SE Peru. The MLC provides the ideal home for the Conservation Research Programme because of its unique location at the foothills of the Andes, where the mountains meet the lowlands. It is also an area of regenerating forest with up to 40 years of regeneration, providing a fantastic opportunity to study the conservation and biodiversity of regenerating forests.
Volunteers would be working to support researchers and field staff. The first week of the placement would comprise a training week designed to maximise the experience by making sure volunteers are properly trained in how to live in the jungle and work effectively on the projects. The sort of projects they may be involved in could include:
Monitoring vulnerable local bird species such as the blue headed macaw, helping to assess the impact of deforestation and human disturbance on them and contributing towards ways of supporting their conservation.
Monitoring amphibians and reptiles, both of which are excellent indicators of climate change caused by deforestation and other human activities.
Creating an inventory of butterfly species – these insects are significant bio-indicators and are important in ecosystems as pollinators to many plant species
Helping to set up and monitor camera traps to record mammal life within the regenerating rainforest
Collecting information about biomass, canopy and tree phenology as part of the research on the regeneration of the rainforest
A visit to a local community where work is being done to create sustainable livelihoods that meet the challenges of poverty, malnutrition and the loss of forest caused by destructive mining, logging and slash and burn agriculture. Community projects have included the creation of biogardens and agroforestry plots.
India